Welcome To The Home of CERES YOUTH BASEBALL & SOFTBALL
2021 Season Update
Updated 17 April 2021:
As the season approaches we here at Ceres Youth Baseball and Softball would like to just give a few reminders:
Games are slated to begin on Saturday April 24, 2021. Facemasks MUST be worn at all times by coaches and parents at all times. Players must wear theirs when less than 6 feet apart from one another and at all times when in the dugout. In additon all bleachers have been marked off for players use only.  
We have released the Return to Play Protocols below, however these are very fluid documents that are going to be adjusted as local and state guidelines change.
Stay up to date with all information pertaining to CYB by signing up for our newsletter: 
2021 Summer League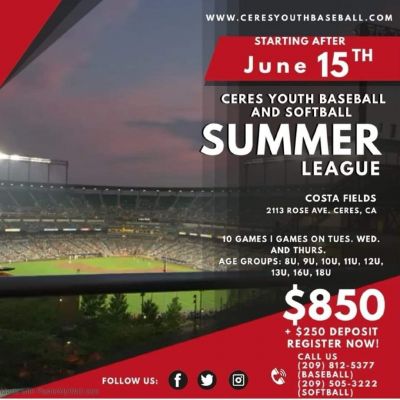 We are pleased to announce that we are doing a summer league this year. For questions or to sign your team(s) up contact for Gerardo (209) 812-5377 for baseball and for softball contact Dima (209)  505-3222
Age Groups and Cut Off Dates
Baseball age cut off is August 31, 2021 (However old they ARE on that day is what age group they will play in this year) Children playing in 4-5 age group MUST be 4 by April 24, 2021

T-ball 4-5 (Co-ed)
Boys 6-7
Boys 8
Boys 9-10
Boys 11-12
Boys 13-15 or Pony boys

Softball age cut of is Decemeber 31, 2020 (However old they WERE on that day is what age group they will play in for this year)

Girls 5-6 (t-ball)
Girls 7-8
Girls 9-10
Girls 11-13
Girls 14-18
Coaches Corner
Coaches need to have the following:
Background check (live scan offered by CYB on specific days)
CPR and First Aid training  - Meyers CPR & First is located in Ceres and if you check the page below she has special days just for CYB coaches.

Home of Blaze and Sizzle