ManageYourLeague.com (MYL)
MYL is the most comprehensive online sports league management software. Our mobile optimized websites include an all in one integrated solution with sports registration software, a sports schedule maker and generator, referee & umpire official scheduling, powerful volunteer management tools, plus email & text communications and more. ManageYourLeague.com can be utilized by single sport leagues, but is also well suited for multi-sport and regional/national organizations.
Request a Demo Today!
The #1 Sport Management Software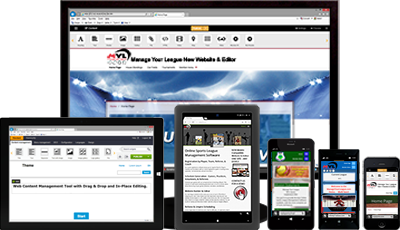 Our online sports league management software is the best comprehensive sports software that allows your league managers and administrators to quickly create your game and practice schedules by division, which get automatically published to your public league website. Some of the best sports websites are using this little league roster tool. Build or edit your schedule manually or take advantage of our automated league scheduler generator and maker. Simply select the level, length of season and ManageYourLeague.com does the rest.
Additionally, league registration software for team sports has never been easier. Our Sports Schedule Maker eliminates overbooking fields, courts, and resources. Coaches portal website auto publishes the coach's schedule no matter what sport or how many sports leagues they volunteer in! Once a change is made to the schedule, it is automatically available to youth and adult players, parents, teams, board members, and volunteers on the parent website or via email broadcast. Whether you are a manager/coach of a Soccer League, manage Little League Baseball Games, Youth Basketball League, or any other Youth Sports and Adult Sports League, or e-Sports League, our web-based sports league management software is your solution.

Click on the tabs below to learn more...
Sports Registration Software Manager
Sports Schedule Maker & Generator
Website Builder w/ Web CMS Template
Multi Sport Clubs & Associations
Officials Management for Referee & Umpire
Volunteer Scheduling Manager
Tournament & Playoff Bracket Maker
Email & Text Communications
League Registration Software
Team Registration Manager w/Team ID Lookup
Flexible Fee Structure w/Family Discount
Roster Builder w/ Draft Tool
Registration Manager for Leagues, Clubs, & Associations
Built-in medical releases, waivers, code-of-conduct policy
Player Registration Form - Youth & Adult Template
Membership Registration Form Template
Drag and Drop Interface
Add text, images and layouts for your site
Add pages and custom forms
Sports Schedule Generator - Games, Practices, Events
Family Master Schedule for Parents & Players
Sports Scheduling Software & Auto Creator
Rain Out Manager - Emails & Text Notification
League Scheduling Maker
Coach Conflict & Random scheduling Software
Create schedules for league facilities (ex: batting cages)
Assign practice times OR allow coaches to schedule their team
Multi Level, Multi Sport, Multi Tiered
Associations, Towns, Communities
Great for Town, County, & National Tiered Associations
One Database for Entire Organization
Players can play in Multiple Sports
Separate registration & fee structure per level/sport
National Youth Sports Leagues & Associations
Referee & Umpire Scheduling
Referees Enter their Availability
Assign officials based on their qualification & availability
Onsite Referee & Umpire Sign In
Track completed assignments
Generate report to prepare payroll
Let coaches provide feedback to enhance officials training & development
Assign game officials (referees, umpires, time keepers, score keepers, etc.)
Enable officials to accept or decline their assignments
Volunteer Scheduling
Volunteer Position selected during registration
Assign volunteers OR allow them to select their own times
Email Broadcast Volunteers
Track who has/has not completed required volunteer assignment
Reminders for parents of uncompleted volunteer assignments
Single & Double Elimination Brackets
Tournament Bracket Generator
Online Bracket Maker & Builder
Teams can register online
Rosters can be submitted online
Schedule pool play
Enter scores & auto-publish brackets on league website
Email League by Division, Team
Email Players and Parents
Rain Out Tool Sends Email & Text
Text Broadcast Tool
Coaches can email their team
Message Board on league website
Coach can share tips and remind team of upcoming games
Players can confirm their attendance at upcoming games
Coach/Team Rep can post messages on team page
Players can view schedules, standing & stats
Coach can view rosters
Add team pictures
Build your own player evaluation system
Enter & display player ratings from last season
Create balanced teams by automatically assigning players based their rating
Display all available players with key data, including player ratings, & let coaches draft their teams
Displayed data makes it easy to match players with teams their parent coaches or where there are multiple siblings in the same division
Display player/team assignment requests is applicable
SPORTS SCHEDULE MAKER & LEAGUE MANAGEMENT SOFTWARE