Updating Contact Info
Click Member menu in the menu bar at the top of this page
Select Profile from the drop-down menu
Choose YOUR name from the options available
Make any necessary updates and click the Save button
Entering Availability
Click Member menu

 

in the menu bar at the top of this page
Select Referee from the drop-down menu
Choose

 

YOUR name

 

from the options available 
Click on Availability Preference
A new screen opens that defaults to the current season. Click on the link to add your availability.
You can enter your availability, or lack of availability, for the entire season on this page. 
When we schedule, the system shows us all umpires who have listed themselves as AVAILABLE during a game slot.  Because of this it very important that you are specific as possible when entering your availability.
By using the various combinations of fields you can be as specific or as general as necessary. For example, I know that for the entire season I have a 6:30 night class on Mondays, so I mark myself as unavailable on Mondays during that time.  But otherwise I am available all season any time, so I enter that as well.
Each time I want to specify availability or unavailability I click on the link to display the Availability Form, enter my parameters and click the Save button. At the end, my availability appears at the bottom of the screen.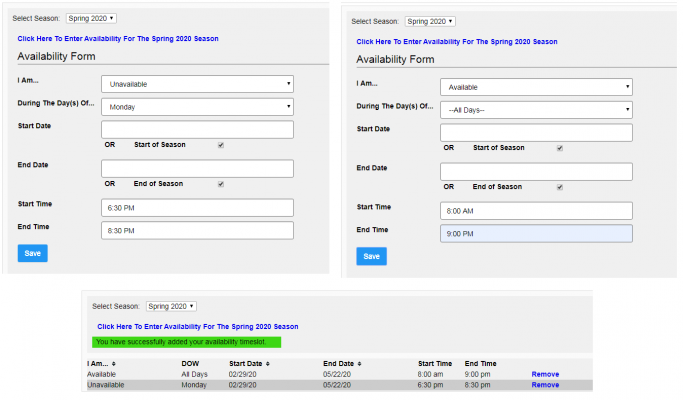 Confirming/Declining Assignments
Games are assigned by Tuesdays for the following Monday – Sunday. Emails will be sent with game assignments.
Click Member menu

 

in the menu bar at the top of this page
Select Referee from the drop-down menu
Choose

 

YOUR name

 

from the options available 
Click on

 

Availability Form
For each game assigned, check the box indicating that you are Unavailable (decline) or Available (accept). Use the Previous Week (go back) or Next Week (advance) links in blue to navigate as assignments may be split between weeks.
We expect that you show up for games that you are assigned unless you decline them with sufficient advance notice for us to assign a replacement. Repeated no-shows will result in no more assignments.

MAILING ADDRESS: PO Box 91416 | Austin 78709  PHYSICAL LOCATION: 6301 Joe Tanner Lane | Austin 78749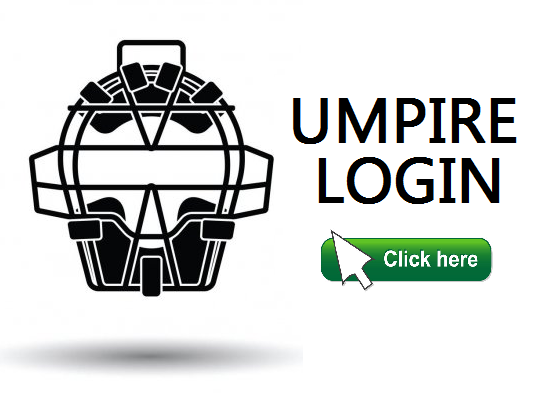 COVID-19 ALERT
If you have experienced any of the following within 2 to 14 days of your assigned game, you CANNOT call the game. Email COVID@ohysaboard.org with your name and game division/time as soon as you are able to let us know.
Fever 100.4F or higher
Sore throat
Cough
Shortness of breath
Difficulty breathing
Chills
Muscle pain
New loss of taste or smell
OHYSA Umpire Basics
UMPIRE ID (UID)
Your UID changes EVERY season. For youth umpires playing in the current season, this ID is not the same as either the Player/Parent ID or the Registration ID.
BACKGROUND CHECKS
If you are 18 or older, or will be turning 18 during the season SUBMIT A BACKGROUND CHECK.  
WAIVER
Complete a Release & Waiver of Liability. 
Current youth OHYSA players can skip this.

Minors not currently registered at OHYSA must have their parent/guardian complete waiver.

Adult umpires must complete waiver.
IRS
You can email your completed and signed form to uic@ohysaboard.org (this is NOT an encrypted email address), or mail it to PO Box 91416 Austin 78709.
Pay Rate
6U softball & baseball - $30
8U softball & baseball - $35
10U baseball - $40
10U, 12U & 14U softball and 12U baseball - $45
14U baseball - $50
Quick Links
Contacts
Mark Salas 512.775.6825
Traci Anderson 512.423.8708